So, I've created an entry. I haven't put it into the actual article yet, but I want to see how it is and what the general opinion is.
Koutetsu Sangokushi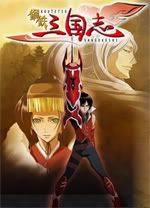 Aired:
April 2007 - September 2007 (25 Episodes)
Running Time:
30 Minutes
Network:
TV Tokyo
Websites:
http://www.tv-tokyo.co.jp/anime/koutetsu-sangokushi/
Genre:
Action, adventure, historical
Plot Synopsis:
In a land ravaged by war, Rikuson Hakugen, a mysterious wanderer enters the service of the nation of Go where he makes it his mission to retrieve an ancient artifact to fulfill his family's legacy. Unbeknownst to himself, his fate and the fates of everyone he knows is being shaped by a figure close to him.
Notes:
Characters and places are referred in their Japanese forms. However, the overall settings and characters are still based on the Three Kingdoms era. For example, Lu Xun is referred to Rikuson Hakugen while Gi, Go and Shoku are Wei, Wu and Shu respectively.
Screenshots: