Hello all,
As a follow up to my previous topic (
about He Jin
) here is another translation of a famous Han general: Huangfu Song.
His official biography is in
chapter 71
of the
History of the Later Han
.
And here's the translation: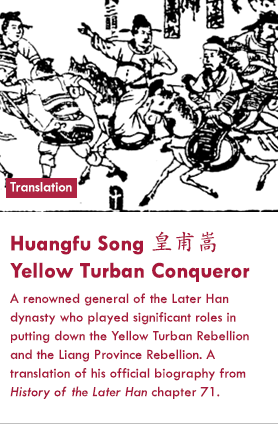 http://threekingdoms.wikia.com/wiki/Hua ... B%E5%B5%A9
.
Please note that it's
as good as
finished, but not entirely. I wanna do another double-check by comparing it with some of Rafe de Crespigny's works to see if all titles etc are translated like he does (I like to use his translations of titles and terminology as standard).
So, please tell me what you think of this translation.
Btw... I'm also doing a bit of redesigning on my wiki, mainly the main page. Im not a real design or .css-coding expert, but what do you guys think of the
new main page
? As you can see the main colours are red and yellow. I picked these because Red was Shu-Han's reign colour (assumably) and Yellow was the reign colour for Wei and Wu. Coincidentally Red and Yellow are also China's national colours today.