Hello all (and Happy New Year!),
For some time I've had (lots of) help in translating the
History of the Later Han
biography of He Jin. Now that it's (as good as) finished, I'd like to share it and ask you what you think of it (by clicking on the picture).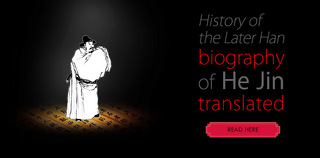 (or here if the pic doesn't work)
(btw the original Chinese
HHS
biography of He Jin is
here
).
You may notice that some sentences are very similar to Rafe's in his
Emperor Huan and Emperor Ling
book. After the project was finished I compared it with his work and sometimes replaced sentences of ours with his (cause his English is much better obviously, and because I like his translations of terminology such as ranks and titles)
Since SGZ translations are getting more abundand, and HHS translations aren't, I may do some more of these in the future.
btw, if any of you spot any errors or suggest a better wording, please let me know!